DEERING REINVENTS THE CLASSIC
The stunning new Artisan Goodtime banjos epitomizes Greg Deering's lifelong vision for the Deering Banjo Company – to make the best sounding, best playing, best looking, and best value U.S.A. made banjo that he possibly could. It is a never ending quest that Deering pursues every single day. So with improved tooling and a higher than normal dose of creativity, we bid farewell to our old friend the Classic Goodtime and welcome with open arms the stunning aesthetic of the new Artisan Goodtime Banjos.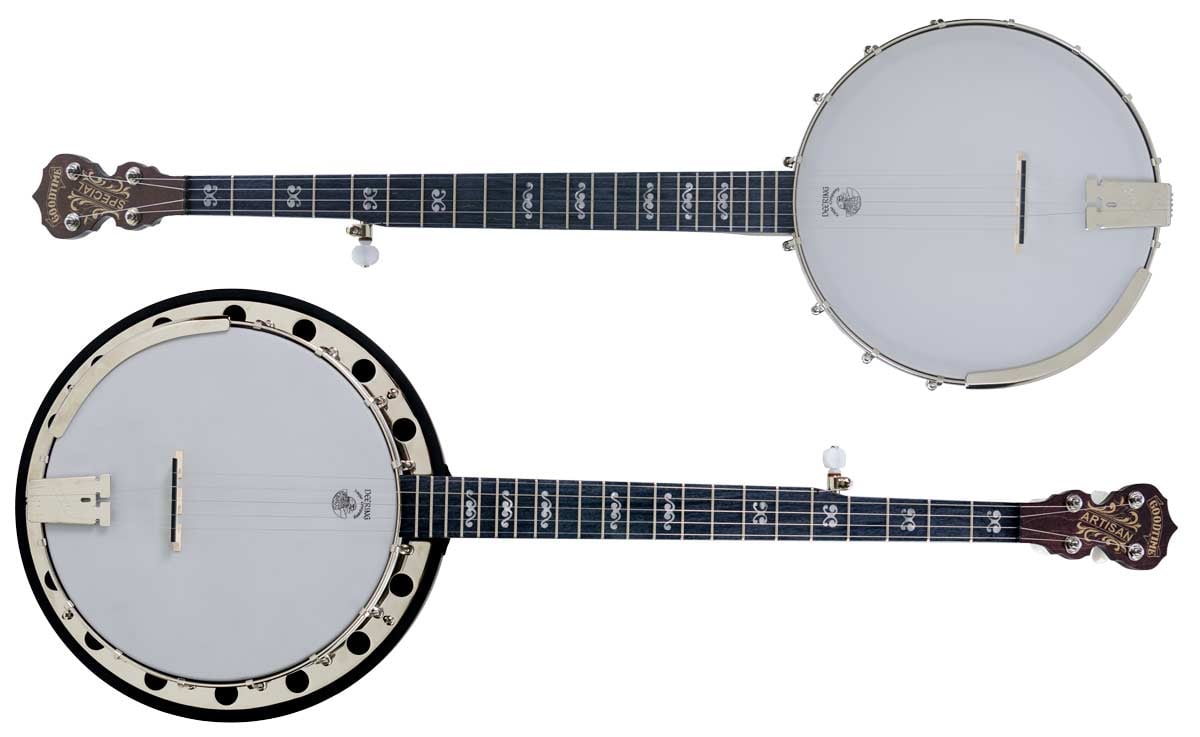 Midnight Maple™ Fingerboard
After four years of research and a great deal of patience, Deering has developed technology to penetrate the tight grain of the rock maple used in Goodtime necks, all the way through the wood. The result is a completely dyed board, made right here in the United States from an extremely readily available material to add that truly professional touch.
SCROLL DOWN TO LEARN MORE ABOUT MIDNIGHT MAPLE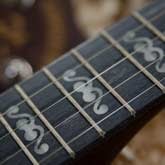 Vintage Artisan Pearloid Inlays
The idea behind the Artisan Goodtimes was to create a banjo that retained a true traditional look and feel and we knew we had to do more than the standard ¼" dot inlay. Inspired by the inlays from our Deering Calico model, the Artisans now feature beautiful vintage styled Artisan inlays to compliment the beauty of the fingerboard.
The new Artisan Goodtime banjo are beautifully crafted. We think the Midnight Maple fingerboard might even make the Goodtimes sound better!
Banjo Studio Deering Master Dealer
[fa icon="quote-right"]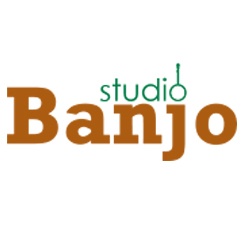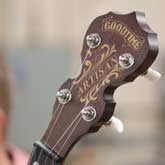 Elegant Engraved Peghead Scroll
One of the features we are most proud of on the Artisan is the beautifully elegant, engraved scroll work and "Goodtime" logo on the peg head. Deering has been doing this for some time on the blonde Goodtimes, but we were only recently able to apply the same technique to the dark stain of the Artisans and it looks exquisite!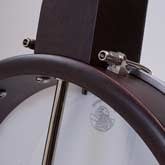 3-Ply Violin Grade Maple Rim
The Artisan Goodtime banjos could not be made by Deering without their famous 3-ply violin grade maple rim. Made from the same species of maple that was originally exported to Europe for violin makers in the 1800's, this rim is the heart and soul of nearly every banjo in the Deering catalog and makes for a cleaner, crisper, brighter, and more responsive tone.
We applaud the folks at Deering for the new Artisan Series. We love all the added features, and think you will too!
Elderly Instruments Deering Master Dealer
[fa icon="quote-right"]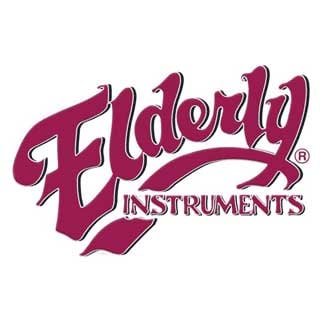 All Your Favorite Classic Features!
Just because the Artisan Goodtimes are replacing the original Classic Goodtimes, does not mean we changed everything. We made sure that the Artisan Goodtime's retain several of the Classic's much loved features, namely the satin smooth rich brown finish, the planetary tuners, and of course the 5th string capo spikes at frets 7, 9 & 10 for easy capo-ing of the 5th string.